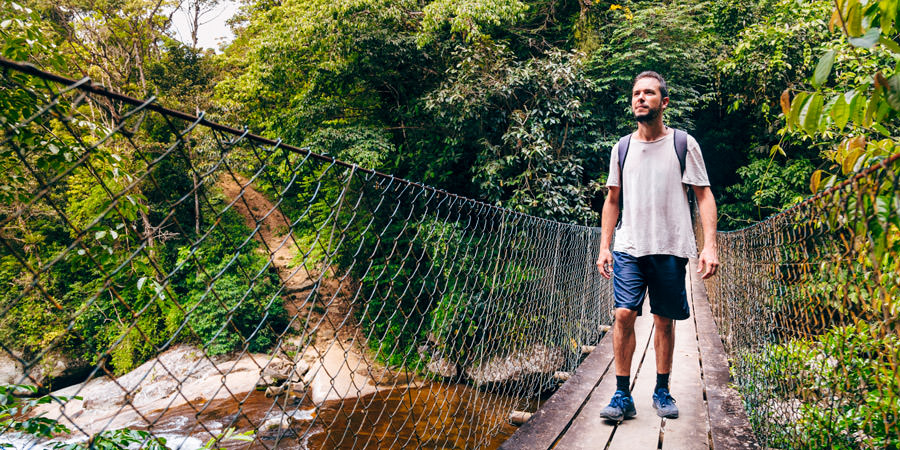 Yellow Fever Vaccinations and Certificates for International Travel
What Is Yellow Fever?
According to the CDC, yellow fever is a mosquito-borne viral disease present in Africa and South America. The infection can range from mild to severe. Vaccination is the best protection against this virus.
Mild symptoms of yellow fever include: fever, nausea, vomiting, headache, abdominal and muscle pains. More severe symptoms include hepatitis and hemorrhagic fever.
While yellow fever is not present throughout the globe, yellow fever vaccination is important because of the virus's high mortality rate.
Some countries like Ghana and Brazil require all or some travelers receive the immunization to enter the country.
In addition to receiving a yellow fever vaccine, travelers should be sure to use appropriate mosquito repellents or netting. These are also available through Passport Health.
What Is the Yellow Fever Vaccine?
The yellow fever vaccine provides protection against the virus for travelers and those living in areas where the disease is present. The vaccine is only available in an injectable form.
Because the yellow fever vaccine is very safe and the disease risk is high, the CDC recommends this vaccine for adults and children over 9 months who will be traveling to high-risk areas.
Some countries require proof of yellow fever immunization for entry. Because of this, all individuals who receive a yellow fever vaccination at Passport Health also receive an International Certificate of Vaccination (or 'yellow card') to certify they have been immunized. This card is what will be presented at an international entry point in most cases.
Where Can I Get The Yellow Fever Vaccine?
Only registered Yellow Fever Vaccination Centers like Passport Health can give the yellow fever vaccine and provide the International Certificate of Vaccination ("yellow card") to travelers and other individuals. After receiving the vaccine at Passport Health you will receive an International Certificate of Vaccination (ICV) completed, signed and validated with the official stamp. Find a Passport Health location near you to get vaccinated against yellow fever.
How To Prevent Yellow Fever
The best way to prevent yellow fever is through vaccination. But, you should take extra precautions if you are in an area with the virus. The CDC recommends travelers do the following to prevent mosquito bites in these regions:
Use Insect Repellent – Be sure to use an EPA-registered insect repellent. These include repellents containing DEET, picaridin, IR3535 or oil of lemon eucalyptus.
Wear Proper Clothing – When possible, wear long-sleeves, long pants and socks when engaging in outdoor activities. Consider using a spray-on clothing repellent like permethrin for extra protection.
Be Aware of Peak Hours – Mosquitoes bite the most at dusk and dawn. Be sure to take extra precautions during this time.
Schedule a yellow fever vaccination today at a local Passport Health clinic by calling or book online now.
Where does Yellow Fever occur?
Yellow fever is common in sub-Saharan Africa (where it is endemic), countries in South America and a few other parts of the world.
Many countries that do not require yellow fever vaccination for entry, do require proof of the yellow fever vaccine if coming from an infected region. The vaccine is recommended for travel outside urban areas especially in yellow fever endemic zones.
Fatal cases of yellow fever have occurred in unvaccinated tourists visiting areas within the yellow fever endemic zone. Some countries require a traveler, even if only in transit, to have a valid international certificate of yellow fever vaccination if he or she has been in a country either known or thought to harbor yellow fever.
Countries with risk of Yellow Fever Transmission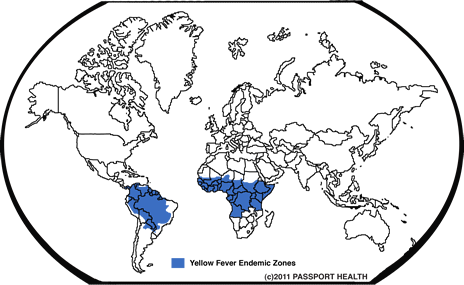 1Countries/areas where "a risk of yellow fever transmission is present," as defined by the World Health Organization, are countries or areas where "yellow fever has been reported currently or in the past, plus vectors and animal reservoirs currently exist."
2These countries are not holoendemic (i.e., only a portion of the country has risk of yellow fever transmission). Please see above map for details.
1 Country requirements for yellow fever vaccination are subject to change at any time; therefore, CDC encourages travelers to check with the destination country's embassy or consulate before departure.
How Long Does the Yellow Fever Vaccine Last?
Recent studies show one dose of yellow fever vaccine may be effective for a patient's entire life. Previous evidence recommended a booster every 10 years. Many countries still require evidence of a yellow fever vaccination within the last five to ten years in order to be allowed entry. This may mean you will need to get a yellow fever booster shot. Be sure to check with your Passport Health travel specialist regarding whether you need a yellow fever booster.
So, if you are asking yourself, "What travel shots and vaccinations do I need?" or "Where do I get the yellow fever Vaccine?" schedule an appointment with your local Passport Health travel medicine clinic.
Customer Reviews
Passport Health – Yellow Fever Vaccination
Overall rating: 5 stars – 20 reviews
"

Very happy with service

"

"Needed Yellow Fever shot. Going to Cameroon, Africa. Couldn't get a visa without the shot verification so I needed it like, within the next 2 days. Since there's a nation-wide shortage of the vaccine, I had to call all over Long Island to find a clinic that had any. Luckily, Passport Health did. They were booked until the following week – Not enough time to get the visa! Luckily, they had a single slot open the same day! I went to the Roslyn office. Very professional, courteous and nice people. The doctor was great and explained all of the vaccinations I shojuld have for such a trup… plus Anti-Malaria pills. Overall, 100% happy with their service!"
"

Highly Recommended

"

"My two children and I came to the Passport Health Clinic for yellow fever and typhoid vaccines for travel to Brazil. The nurse was very knowledgeable and efficient in explaining the necessary vacccines, any risks and reactions to these vaccines."
"

Well prepared for our visit!

"

"We went to the Reno Passport Health for Yellow Fever vaccines, and ended with much more. We were given a booklet with all sorts of useful information for our trip. The nurse was very pleasant and answered all our questions. She advised us of other possible vaccinations we should get and gave us other hints to make our trip more comfortable. She must give good shots because my husband and I have not had any reaction since receiving the vaccine. We would recommend her to anyone getting ready for an overseas trip where vaccines are recommended."
"

Quick, Easy, Efficient

"

"I was able to make it to Passport Health on my lunch break to get a yellow fever vaccination and I was in and out in about 30 minutes. But I didn't feel rushed either. I had a very informative consultation."
"

helpful & friendly

"

"I had such a difficult time finding a yellow fever vaccine in NYC, and no one could tell me why. You answered all my questions, scheduled a visit within a few days, and got me the vaccinations and information that I needed for my travel. Thanks to your quick, friendly and knowledgeable staff."
"

Educational visit

"

"This was to be a visit for yellow fever vaccination but we were pleased to get a lot of extra information for the area we will be traveling to!"
"

Great

"

"I went in for a Yellow Fever vaccine. Scheduling was easy, and the appointment was very smooth. The entire process was convenient."
"

Great visit

"

"I had a great visit to the office. I need to get the yellow fever and typhoid fever vaccine. The appointment was easy to schedule, our nurse, Marisa, was extremely knowledgeable. She answered all questions and gave important, pertinent information about our travels."
"

Great Clinic

"

"The woman can't think of her name was great. She gave us helpful info on our trip. We was at least one hour early she took care of us right away. Explained why the yellow fever shot was so hard to come by. She was very professional and helpful."
"

Just what One Needs

"

"Passport health keeps up on the latest CDC information. They can tell you if a particular disease is active in an area where you are traveling. Currently one of the few places to get Yellow Fever vaccine due to the shortage."
"

Very Professional Provider

"

"My husband and I are traveling to Africa and had to get our vaccinations, including Yellow Fever. We chose Hoboken because the clinic in West Orange could not guarantee that they would have the vaccine when we needed it. The nurse at the Hoboken clinic was professional and extremely nice and very helpful. She went over our travel schedule and all the vaccinations which we should consider having. She is very knowledgeable and we based our decisions on her expert advice!"
"

Everything you need in one visit

"

"The nurse was excellent. She went over everything I needed to know about my upcoming medical mission i Kenya and let me make decisions regarding what vaccines/medication I wanted to get. She also gave me advice on what to avoid eating to keep/drinking while there. I had to drive almost two hours because they are the only clinic in the area that offers the Yellow Fever vaccine. She was even able to give me a cold travel pack for the Typhoid medication for my drive home. Very professional and I will be recommending Passport Health to my colleges for future trips."
"

Very Helpful

"

"Passport Health was able to squeeze 3 of us in to get yellow fever and other vaccines. The nurse was very helpful and explained everything! Even though it was an hour drive for us, it was worth it. I would use them again for sure."
"

Vaccines

"

"Loved my experience. I was in and out with the hard to find Yellow Fever vax and also received a typhoid. Lisa was super professional and even presented me with a nice travel itinerary with good to know info for all of the places I usually go. Thank you!"
"

Excellent Service

"

"My wife and I had an appointment today for our upcoming trip to Tanzania, Kenya and Rwanda. The service and information could not have been better. The nurse was an outstanding representative of Passport Health, explaining why we should not get the Yellow Fever shot we thought we needed ( our age makes it risky). I will recommend him and Passport Health to our friends who travel to exotic locations."
"

Well informed

"

"We came here to get our Yellow fever vaccinations for our trip to Tanzania and were very surprised at all we learned about traveling to Africa. It was like a short course in safe travels. We walked out of there feeling blessed and protected. Thank you so much."
"

Very Impressed

"

"I was very impressed by the level of care received at Passport Health. All my questions were answered and I was able to get the yellow fever vaccine I needed for my trip to Zambia. Also having the supplies I needed was very convenient. When I send other teams in the future, I will be recommending Passport Health to them!"
"

Excellent Experience

"

"We were very impressed with the thorough and thoughtful evaluation of our needs. We went in for a Yellow Fever vaccination and found we should also update our typhoid fever vaccine. All aspects of our travel and medical needs were discussed and we lleft confidnet that we had all that we needed."
"

Thanks for taking care of me.

"

"I had procrastinated getting my yellow fever vaccination for my upcoming trip to Nigeria. I could not schedule an appt at home in Jacksonville, FL, but I was on business in Minneapolis area and got the appt in with the nurse in the Edina office. She was very through and provided a lot of information."
"

Very positive experience

"

"We went in to get a yellow fever vaccinations and it couldn't have been easier. The practitioner was very professional and knowledgeable. She made my children comfortable and explained things well. The office was clean and pleasant. Highly recommend."
On This Page:
What Is Yellow Fever?
What Is the Yellow Fever Vaccine?
Where Can I Get the Yellow Fever Vaccine?
How To Prevent Yellow Fever
Where Does Yellow Fever Occur?
Countries with risk of Yellow Fever Transmission
Will I Need A Yellow Fever Booster Shot?