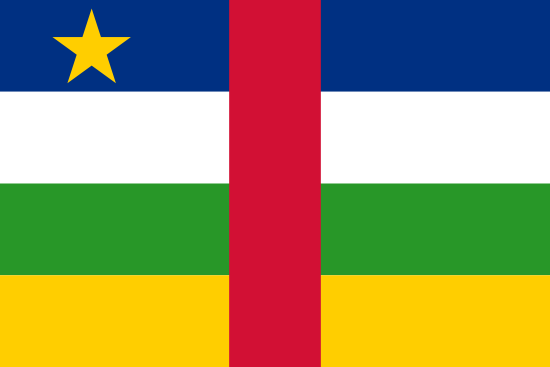 Travel Vaccines and Advice for Central African Republic
Although a difficult country to travel to, the Central African Republic (CAR) has a lot to offer visitors. It gained its independence from France in 1960 and has a blend of old meets new throughout the cities.
Bangui still has its French roots with architecture from the colonial era and touches of French inspired foods and goods. You can shop at the various markets in the city for stunning jewelry and butterfly collections, or try bargaining in nearby villages for local-made goods.
The Central African Republic has the least amount of light pollution in the entire world, making it an excellent place to capture the sky. With the Sahara desert in the north it's the perfect place to capture once in a lifetime photographs. If you're traveling to the south you have dense tropical rain forests with a variety of wildlife. It's considered one of the best places in Africa to see forest elephants and western lowland gorillas.
Do I Need Vaccines for Central African Republic?
Yes, some vaccines are recommended or required for Central African Republic. The CDC and WHO recommend the following vaccinations for Central African Republic: hepatitis A, hepatitis B, typhoid, yellow fever, rabies, meningitis, polio, measles, mumps and rubella (MMR), Tdap (tetanus, diphtheria and pertussis), chickenpox, shingles, pneumonia and influenza.
COVID-19 vaccination is recommended for travel to all regions, both foreign and domestic. Check with your local Passport Health clinic if immunization is offered in your area.
See the bullets below to learn more about some of these key immunizations:
See the tables below for more information:
Recommended Travel Vaccinations for Central African Republic

VACCINE
HOW DISEASE SPREADS
DETAILS

COVID-19
Airborne & Direct Contact
Recommended for all unvaccinated individuals who qualify for vaccination
Hepatitis A
Food & Water
Recommended for most travelers
Hepatitis B
Blood & Body Fluids
Accelerated schedule available
Typhoid
Food & Water
Shot lasts 2 years. Oral vaccine lasts 5 years, must be able to swallow pills. Oral doses must be kept in refrigerator.
Yellow Fever
Mosquito
Required for all travelers over 9 months of age.
Rabies
Saliva of Infected Animals
High risk country. Vaccine recommended for long-term travelers and those who may come in contact with animals.
Meningitis
Airborne & Direct Contact
Located in the meningitis belt, vaccination is recommended during the dry season (Dec. – June)
Routine Vaccinations for Central African Republic

VACCINE
HOW DISEASE SPREADS
DETAILS

Measles Mumps Rubella (MMR)
Various Vectors
Given to anyone unvaccinated and/or born after 1957. One time adult booster recommended.
TDAP (Tetanus, Diphtheria & Pertussis)
Wounds & Airborne
Only one adult booster of pertussis required.
Chickenpox
Direct Contact & Airborne
Given to those unvaccinated that did not have chickenpox.
Shingles
Direct Contact
Vaccine can still be given if you have had shingles.
Pneumonia
Airborne
Two vaccines given separately. All 65+ or immunocompromised should receive both.
Influenza
Airborne
Vaccine components change annually.
Polio
Food & Water
Considered a routine vaccination for most travel itineraries. Single adult booster recommended.
Proof of yellow fever vaccination is required for entry to CAR. Make sure you have received the vaccine at least 10 days before entering the country.
Malaria, dengue and chikungunya are all present in CAR. Mosquito repellents and netting are recommended for travelers to the region. Antimalarial medication is recommended for all travelers.
Meningitis is normally considered a routine vaccination. But, the disease is present in CAR. Make sure you're protected with a meningitis and meningitis B vaccination.
Visit our vaccinations page to learn more. Travel safely with Passport Health and schedule your appointment today by calling or book online now.
Do I Need a Visa or Passport for the Central African Republic?
CAR doesn't require a visa for travels less than 180 days. But, some airlines entering CAR will not let U.S. passport holders board without a valid visa. Before traveling to CAR be sure to have a valid passport and be updated on all required vaccines including yellow fever.
Central African Republic Entry Requirements

Do I Need A…
For My Trip to Central African Republic?

Passport
Tourist Visa
Business Visa
Vaccinations
Sources: Embassy of Central African Republic and U.S. State Department
Once in the Central African Republic be sure to keep your visa, proof of yellow fever vaccination, and any other related documentation on your person during your travels.
What Is the Climate Like in the Central African Republic?
The Central African Republic is a landlocked country that has a wet season between May and October with a dry season November to April. The driest months are January and February, making it a good time for planned travel. Here is what you should expect in a few key cities:
Bangui – Located in the southern region of the country and surrounded by dense rain forests, it has a tropical savanna climate with dry winters. The average temperature is in the high 70's with records of over 100 degrees at its hottest. Be sure to wear lightweight clothing and layers when staying in the city.

Bimbo – You can find this city southwest of Bangui and expect a tropical climate with the same wet and dry seasons. The average temperatures are comparable to Bangui's.
How Safe Is the Central African Republic?
Despite the presence of UN Peacekeepers, CAR's security remains fragile. The U.S. Department of State highly advises against traveling to the country.
If you are traveling for business or vacation you must carry all necessary paperwork on you at all times: passport, visa, proof of yellow fever vaccine. If you are traveling for business you need to have travel orders from your work on your person.
Public demonstrations are common. If you see one taking place leave the area and avoid large gatherings. They may appear peaceful but could turn violent at any moment.
Same-sex relations are illegal in the CAR and you can be arrested or fined for "public expressions of love."
If you're planning on seeing the southwest region of the country you will need a special permit due to sensitive mining areas. There is also a high crime rate in the major cities due to lack of government presence.
The Boali Waterfalls
Avoid mosquitoes and other bugs
Looking for something truly impressive? The Mbali river waterfalls near Boali are massive. If you're staying in Bangui it would be worth a day trip to check out the falls. Measuring nearly 820 feet wide and 165 feet tall, the waterfalls are an amazing sight. Below the falls are 2 hydroelectric works, Boali 1 and Boali 2. They're operated by Central African Energy and if you're interested you can see the hydroelectric power plant nearby. The plant supplies power to Bangui as well as many other towns.
Not that interested in the hydroelectric plant part? Visiting the Boali falls is a great way to see traditional villages and interact with locals at nearby restaurants. Plus, it's a great escape from the hubbub of the city and the dense population.
What Should I Pack for the Central African Republic?
Taking into consideration CAR's climate, it will depend on your travels for what you need to pack. But, here are a few essentials you don't want to forget:
Umbrella or Raincoat – The southwestern tropical rain forest areas get hit with the most rainfall. Depending on when you travel, the wet season can bring a lot of rain. Don't be miserable on your trip and make sure you have some form of rain gear that you can carry around with you.
Locks/Small Secure Bag – Theft is common in major cities. It is imperative that you keep your belongings in a secure location on your body. You could have a backpack with little luggage locks on it, a purse that has a lot of zippers and you can keep close to you, or some other type of secure bag.
Film or Memory Cards – If you're into photography you should be sure to bring enough for your trip. Both are very expensive in CAR and can set you back quite a bit.
It's important to note that modesty is a major factor in the culture of those living in CAR. Women should avoid packing shorts as they are frowned upon. Try to pack modest clothing for when in public as many towns segregate women from men.
U.S. Embassy in the Central African Republic
The U.S. Embassy in Bangui does not provide consular services at this time. Travelers are advised to contact the U.S. embassy in Cameroon.
U.S. Embassy Yaounde
Avenue Rosa Parks
P.O. Box 817
Yaounde, Cameroon
Telephone: +(237) 22220-1500 ext. 4341/4023 (Monday through Friday, 9:00 a.m. – 12:00 p.m. local time)
Emergencies: +(237) 22220-1500, ext. 4531 or +(237) 22222-25-893
It's important to check with the embassy directly or on their website to see what services are available and when.
Ready to start your next journey? Call us at or book online now!
Customer Reviews
Passport Health – Travel Vaccines for Central African Republic