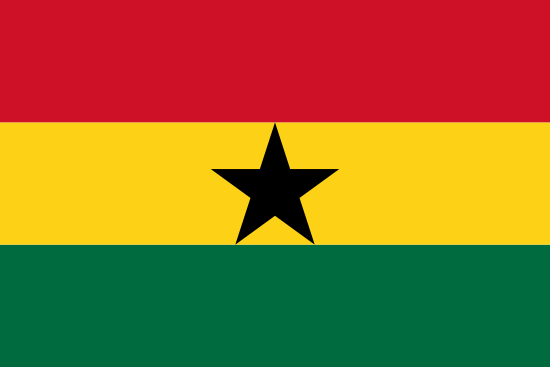 Travel Vaccines and Advice for Ghana
Ghana is considered a good and welcoming place, especially for first-time travelers to Africa. Tourism is a growing industry in Ghana.
Ghana presents a lot of opportunities to experience Africa through national parks, nature reserves and villages.
English is the official language of Ghana. But, not always the primary language people speak. Local languages also include Ga, Twi and Ewe.
The largest city, Accra is also the capital city of Ghana. Accra is a growing city with modern amenities of hotels, restaurants and a vast number of museums.
Do I Need Vaccines for Ghana?
Yes, some vaccines are recommended or required for Ghana. The CDC and WHO recommend the following vaccinations for Ghana: hepatitis A, hepatitis B, typhoid, yellow fever, rabies, meningitis, polio, measles, mumps and rubella (MMR), Tdap (tetanus, diphtheria and pertussis), chickenpox, shingles, pneumonia and influenza.
COVID-19 vaccination is recommended for travel to all regions, both foreign and domestic. Check with your local Passport Health clinic if immunization is offered in your area.
See the bullets below to learn more about some of these key immunizations:
See the tables below for more information:
Recommended Travel Vaccinations for Ghana

VACCINE
HOW DISEASE SPREADS
DETAILS

COVID-19
Airborne & Direct Contact
Recommended for all unvaccinated individuals who qualify for vaccination
Hepatitis A
Food & Water
Recommended for most travelers
Hepatitis B
Blood & Body Fluids
Accelerated schedule available
Typhoid
Food & Water
Shot lasts 2 years. Oral vaccine lasts 5 years, must be able to swallow pills. Oral doses must be kept in refrigerator.
Yellow Fever
Mosquito
Required for all travelers over 9 months of age.
Rabies
Saliva of Infected Animals
High risk country. Vaccine recommended for long-term travelers and those who may come in contact with animals.
Meningitis
Airborne & Direct Contact
Located in the meningitis belt, vaccination is recommended during the dry season (Dec. – June)
Routine Vaccinations for Ghana

VACCINE
HOW DISEASE SPREADS
DETAILS

Measles Mumps Rubella (MMR)
Various Vectors
Given to anyone unvaccinated and/or born after 1957. One time adult booster recommended.
TDAP (Tetanus, Diphtheria & Pertussis)
Wounds & Airborne
Only one adult booster of pertussis required.
Chickenpox
Direct Contact & Airborne
Given to those unvaccinated that did not have chickenpox.
Shingles
Direct Contact
Vaccine can still be given if you have had shingles.
Pneumonia
Airborne
Two vaccines given separately. All 65+ or immunocompromised should receive both.
Influenza
Airborne
Vaccine components change annually.
Polio
Food & Water
Considered a routine vaccination for most travel itineraries. Single adult booster recommended.
Documentation of yellow fever vaccination is required in Ghana. Make sure you are vaccinated before you go or you may be denied entry to the country.
Meningitis spreads in the region during the summer months. A meningitis vaccination is the best form of protection against this potentially deadly disease.
Malaria, dengue and chikungunya are all present in Ghana. Be sure to bring antimalarials, mosquito repellents and netting to stay protected while in-country.
Outside of Accra, access to medical facilities is limited. Make sure to bring any prescriptions you will need.
Visit our vaccinations page to learn more. Travel safely with Passport Health and schedule your appointment today by calling or book online now.
Do I Need a Visa or Passport for Ghana?
A passport and visa are required for travelers going to Ghana. It is best to start this process well in advance of your trip to ensure all documents are fully processed before you leave.
Documentation of yellow fever vaccination is required for entry to Ghana.
Ghana Entry Requirements

Do I Need A…
For My Trip to Ghana?

Passport
Tourist Visa
Business Visa
Vaccinations
Sources: Embassy of Ghana and U.S. State Department
Travelers over the age of six-years-old that have been traveling in Ghana for over 90 days are required to register with the National Identification Authority (NIA). Travelers will receive a Non-citizen Ghana card that will be required for transactions that require identification.
What is the Climate Like in Ghana?
Ghana is a country with many popular tourist destinations, and each has its own unique weather patterns. The capital city, Accra, has a tropical savanna climate with temperatures ranging from 75 to 90 degrees throughout the year. The rainy season there is from April to July, with heavy downpours in June and July. Cape Coast, a coastal city, has the same climate as Accra, and its rainy season is from May to September.
Kumasi, the cultural capital of Ghana, has a tropical wet and dry climate with temperatures ranging from 70 to 85, and its rainy season runs from April to October. Tamale, a northern city, has a tropical wet and dry climate with temperatures ranging from 80 to 100, and its rainy season runs from May to October.
It's important to remember that the weather can vary from day to day. It's a good idea to check the weather forecast before traveling to Ghana, especially during the rainy season.
Is It Safe to Travel to Ghana?
Ghana is facing an increased threat from terrorist groups. Kidnapping that target Westerners have occurred in Cote d'Ivoire, Burkina Faso, Niger, and Mali.
Petty crime and scams are the most common crime that travelers face. Armed robbery and money solicitations at airports are on the rise.
Always remember to travel in groups and avoid traveling at night.
Homosexuality is illegal in Ghana and imprisonment can be from 3-10 years.
Remember that local authorities are responsible for investigating and prosecuting crime.
Coastal Forts in Ghana
Avoid an Embarrassing Stop
The coastal forts of Ghana are a page out of history that helped create progress in Ghana's modern world.
One of the largest forts in Ghana is the Cape Coast Castle that overlooks the sea. It was one of the world's largest slave-holding sites and it still reflects the horror of that time.
The castle holds dungeons where slaves were held up to twelve weeks. In contrast, the castle also has a lavish governor's bedroom to illustrate the inequality of the age.
Other forts to check out in Ghana include Fort Metal Cross, Fort Batenstein and Osu Castle.
What Should I Take To Ghana?
When traveling to Ghana, it's important to pack some essential items to have a safe and comfortable trip. Here is a list of what to bring:
Passport and visas: Make sure you have a valid passport and any necessary visas for entry into Ghana.
Travel documents: Carry copies of your travel documents, including your passport, travel insurance and emergency contact information.
Vaccination certificate: Make sure you have proof of vaccination against yellow fever, as it is required for entry into Ghana. Other vaccinations, such as for hepatitis A and B, are also recommended.
Clothing: Pack lightweight, breathable clothing such as cotton shirts, shorts, and skirts. Bring comfortable walking shoes, sandals, and a hat to protect you from the sun.
Insect repellent: Mosquitoes can be a problem in Ghana, bring insect repellent containing DEET.
Power adapter: Bring a universal power adapter.
Money: Bring some local currency for small purchases. You can also bring a debit or credit card to withdraw cash from ATMs or make purchases at larger establishments.
Sunscreen: Protect your skin from the sun's harmful rays with a high SPF sunscreen.

Water bottle: Stay hydrated by bringing a reusable water bottle to fill up with clean drinking water.
Remember to pack light and bring appropriate clothing for the climate. Don't be afraid to ask locals for recommendations on what to do and see in Ghana.
U.S. Embassy in Ghana
The U.S. embassy in Ghana provides services for travelers, including passport and visa services, emergency assistance and cultural and educational programs. The embassy also provides security services and updates on security situations in Ghana.
If you find yourself in need of help while traveling in Ghana, there is a U.S. embassy in the capital city of Accra.
U.S. Embassy Accra
No. 24 Fourth Circular Road,
Cantonments, Accra, Ghana
Telephone: +233-(0)30-274-1000
Emergency After-Hours Telephone: +233-(0)30-274-1000
Email: ACSaccra@state.gov
Visit the Embassy to Ghana website before departure to confirm correct contact details for the office.
If you have any questions about traveling to Ghana or are wondering what shots you may need for your trip, schedule an appointment with your local Passport Health travel medicine clinic. Call us at or book online now! and protect yourself today.
Customer Reviews
Passport Health – Travel Vaccines for Ghana

Overall rating: 5 stars – 10 reviews

"

Great Visit!

"

"The Travel Specialist was extremely helpful and accommodating, as this is first trip to Ghana, Africa. She was very thorough in reviewing my itinerary with me, and answered all my questions. She made me feel so at ease. Her customer service was great, and because of this, I will definitely visit Passport Health again to obtain other recommended immunizations."

"

very fast service,excellent

"

"I was in a hurry to get shots updated for a spur of the moment business trip to Ghana and they got me in and had an itinerary ready for me, shots done and I was in and out in about 30 minutes, I was very impressed, the nurse was very personable while doing an outstanding job, I will go back if I travel spur of the moment again overseas to make sure I am current on all shots."

"

Good for wimps

"

"I haven't had any shots since high school, and need to travel to Ghana. The passport health representative was very calming when dealing with someone who is definitely not a fan of shots. It was greatly appreciated!!"

"

Excellent Service

"

"My recent trip to the Passport Health was my second trip since 2013. the nurse was very friendly and remembered me from my visit in 2013. She had everything that she wanted to share with me about my trip to Ghana prepared and ready for me. thank goodness I did not need another shot!"

"

Parent

"

"This service has helped get my child ready for travel to Ghana and Peru and has helped me assure that she is ready. The folders created the knowledgeable staff and the consistently professional interactions are a pleasure, Thanks"

"

Outstanding Experience

"

"I went for immunizations in preparation for an upcoming business trip to Ghana. The clinic was clean and the nurse was professional and knowledgeable about the current threat of diseases. She based her assessment on the CDCs report on Africa. Very good experience. Will use them again."

"

Quick and Efficient

"

"What I loved about this place was there was no wait time or long lines. I had fill in everything online so there was a passport travel booklet with my name on it that including all the information I need for my travel. The Nurse cover everything and the shot was a breeze. THANKS CANT WAIT FOR MY TRIP TO GHANA"

"

Awesome Service with a Smile

"

"I had a very positive experience with Passport Health. I appreciated the booklet with all sorts of tips on staying safe in Ghana. Bless you."

"

Consultation Feedback

"

"I found Passport Health very helpful in the vaccinations I needed for my trip to Ghana, Africa. Stevie, RN was cordial and knowledgeable. The booklet will be helpful as I continue my plans in 2017."

"

Excellent and knowledgeable

"

"I visited this clinic in preparation to my upcoming mission trip to Ghana. The RN at the site was friendly, knowledgeable, and professional. At no time did I feel pressured or forced to chose vaccinations I didn't need for my trip. Further at the end of the visit she provided me with a printed handout of overall things I should to know and be aware of as well as protection tips. Customer service was awesome. And I would most definitely recommend the services to my friends."

On This Page:
Do I Need Vaccines for Ghana?
Do I Need a Visa or Passport for Ghana?
What is the Climate Like in Ghana?
Is It Safe to Travel to Ghana?
Coastal Forts in Ghana
What Should I Take To Ghana?
U.S. Embassy in Ghana