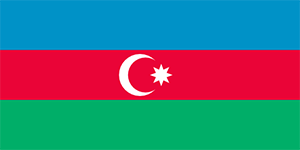 Travel Vaccines and Advice for Azerbaijan
Azerbaijan boasts a setting influenced by Asia and Europe. Its variety of landscapes give travelers a feel for both urban and rural life.
Quba is located in the northeastern part of the country. It appeals to all travelers but particularly those attempting a more quaint stay. The city is known for carpet making. But, you will also find Russian, Jewish, and more modern day influences around every corner. Sights in Quba include a History Museum, synagogues, and a castle to explore. Consider journeying to nearby Xinaliq for a hike to stunning views.
Azerbaijan offers an experience hard to find in any other country in the world!
Do I Need Vaccines for Azerbaijan?
Yes, some vaccines are recommended or required for Azerbaijan. The CDC and WHO recommend the following vaccinations for Azerbaijan: hepatitis A, hepatitis B, rabies, meningitis, polio, measles, mumps and rubella (MMR), Tdap (tetanus, diphtheria and pertussis), chickenpox, shingles, pneumonia and influenza.
COVID-19 vaccination is recommended for travel to all regions, both foreign and domestic. Check with your local Passport Health clinic if immunization is offered in your area.
See the bullets below to learn more about some of these key immunizations:
See the tables below for more information:
Recommended Travel Vaccinations for Azerbaijan

VACCINE
HOW DISEASE SPREADS
DETAILS

COVID-19
Airborne & Direct Contact
Recommended for all unvaccinated individuals who qualify for vaccination
Hepatitis A
Food & Water
Recommended for most travelers
Hepatitis B
Blood & Body Fluids
Accelerated schedule available
Rabies
Saliva of Infected Animals
High risk country. Vaccine recommended for long-term travelers and those who may come in contact with animals.
Routine Vaccinations for Azerbaijan

VACCINE
HOW DISEASE SPREADS
DETAILS

Measles Mumps Rubella (MMR)
Various Vectors
Given to anyone unvaccinated and/or born after 1957. One time adult booster recommended.
TDAP (Tetanus, Diphtheria & Pertussis)
Wounds & Airborne
Only one adult booster of pertussis required.
Chickenpox
Direct Contact & Airborne
Given to those unvaccinated that did not have chickenpox.
Shingles
Direct Contact
Vaccine can still be given if you have had shingles.
Pneumonia
Airborne
Two vaccines given separately. All 65+ or immunocompromised should receive both.
Influenza
Airborne
Vaccine components change annually.
Meningitis
Airborne & Direct Contact
Given to anyone unvaccinated or at an increased risk, especially students.
Polio
Food & Water
Considered a routine vaccination for most travel itineraries. Single adult booster recommended.
Malaria is present in some parts of Azerbaijan. Check with a Passport Health travel specialist to learn if antimalarials are right for your trip.
Visit our vaccinations page to learn more. Travel safely with Passport Health and schedule your appointment today by calling or book online now.
Do I Need a Visa for Azerbaijan?
Travelers require a visa to enter Azerbaijan. If you plan to stay longer than ten days, you are required to check in with the State Migration Service (SMS).
Azerbaijan Entry Requirements

Do I Need A…
For My Trip to Azerbaijan?

Passport
Tourist Visa
Business Visa
Vaccinations
Sources: Embassy of Azerbaijan and U.S. State Department
Depending on your visa type, there may be health restrictions.
What Is the Climate Like in Azerbaijan?
Azerbaijan has a dry, semi-arid steppe climate. This means it is not as susceptible to rain. The three regions of the country are rather variant. You will find the descriptions below:
Lowlands – Any area of the country below sea level, which amounts to about 45 percent of Azerbaijan. The spring is an ideal time to visit this area of the country.
Caspian Sea Region – Where Baku is located and part of the Abseron Peninsula. Visit this area of the country during the fall months or even the winter. Temperatures are milder due to the direction of sea winds.
Great Caucasus Mountains – Considered the highlands, located in the northern part of Azerbaijan. The best time to visit this region is in the winter for some great skiing and outdoor activities.
How Safe Is Azerbaijan?
Azerbaijan is an area of low crime. Remain alert in crowded areas and keep belongings close. The most frequently reported crimes are burglary, pick-pocketing, or assault.
The Nagorno-Karabakh conflict has continued in Azerbaijan since the 1980's. Stay out of any region having to do with this conflict or any demonstration involving it.
Driving is considered highly dangerous in Azerbaijan, especially in Baku. Often times, rules of the road are ignored which makes accidents frequent. Roads are often not lit and unkempt so drivers should remain vigilant. If you do choose to rent a car, routine traffic stops are common. Make sure you have identification with you at all times.
Public transportation is accessible and reasonably priced in Baku. The metro system is easy to navigate, and security is high, resulting in low crime rates within the area. Taxis are also available. Only to use taxis that are properly marked.
Yanar Dag in Azerbaijan
Avoid an Embarrassing Stop
Right outside of Baku, is Yanar Dag. Here fire dances from the earth thanks to built-up underground natural gas. As time progressed and natural gas was in greater demand, fires around the country started to diminish. Despite this, Yanar Dag remains.
Yanar Dag is about 32 feet in length; the ambiance with the fire is a beautiful sight to behold. Marco Polo was the first explorer to mention these mysterious fires way back in the 13th century. Curiosity led to figuring out the cause of these underground driven marvels.
Journey to Yanar Dig from Baku in about 35 minutes by bus or sign up for a tour exploring the surrounding area!
What Should I Take to Azerbaijan?
Here are recommended items to bring along with you to Azerbaijan:
Medication and First Aid – It is always better to be prepared. Bring suggested medications by your Passport Health Specialist and a first-aid kit.
Sunscreen and Bug Spray – Sunscreen should be on your packing list even in the winter months. Look to invest in bug spray that contains at least 20 percent of DEET or more.
Clothing – Depending on the time of the year, different items of clothing are needed. Nights can also be cold. Do be aware of clothing customs before arriving in Azerbaijan. Prepare accordingly. A good pair of shoes is also suggested for the varying conditions.
U.S. Embassy in Azerbaijan
The U.S. State Department recommends signing up for the Smart Traveler Enrollment Program (STEP). This free program allows the U.S. Embassy in Azerbaijan to update you if any emergency or risks were to occur within the country.
The U.S. embassy in Azerbaijan provides different types of help to travelers. If U.S. citizens have problems while in Azerbaijan, the embassy can assist with medical emergencies or if someone gets arrested. They also give information about traveling safely in Azerbaijan.
It's important to check the embassy's website or contact them directly to learn more about the services they provide.
U.S. Embassy Baku
111 Azadlig Ave
AZ1007 Baku, Azerbaijan
Phone: 994 12 488-3300
Ready to start your next journey? Call us at or book online now!
Customer Reviews
Passport Health – Travel Vaccines for Azerbaijan
Overall rating: 5 stars – 2 reviews
"

Will Use Them Again

"

"The nurse was very helpful and knowledgeable of the travel needs for my trip to Azerbaijan"
"

Great Clinic

"

"I went to the clinic on Wilshire with only 1 week to go before my trip to Azerbaijan and the nurse that I spoke with was extremely helpful with her recommendations on which vaccinations I should get, which ones I was too late on, and what to look out for/avoid while I'm there, as well as remedies for other maladies that may happen while in country. I was also able to get a few vaccinations on the spot. Clinics like this are a great resource, as most doctors' offices won't necessarily have the vaccine stocked and ready to go (as this clinic does) and/or also may not know what vaccinations to recommend for the specific country that you're traveling to. All in all a great resource for all health and travel-related issues, services, and questions!"
On This Page:
Do I Need Vaccines for Azerbaijan?
Do I Need a Visa for Azerbaijan?
What Is the Climate Like in Azerbaijan?
How Safe Is Azerbaijan?
Yanar Dag in Azerbaijan
What Should I Take to Azerbaijan?
U.S. Embassy in Azerbaijan