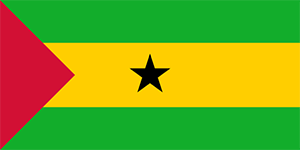 Travel Vaccines and Advice for Sao Tome and Principe
Sao Tome and Principe is a singular country made up of a pair of islands.
The original settlers of the islands were Portuguese explorers in the 15th century. The islands are known for their rich volcanic soil. They are a hub for sugar, coffee, and cocoa.
Do I Need Vaccines for Sao Tome and Principe?
Yes, some vaccines are recommended or required for Sao Tome and Principe. The CDC and WHO recommend the following vaccinations for Sao Tome and Principe: hepatitis A, hepatitis B, typhoid, yellow fever, rabies, meningitis, polio, measles, mumps and rubella (MMR), Tdap (tetanus, diphtheria and pertussis), chickenpox, shingles, pneumonia and influenza.
COVID-19 vaccination is recommended for travel to all regions, both foreign and domestic. Check with your local Passport Health clinic if immunization is offered in your area.
See the bullets below to learn more about some of these key immunizations:
See the tables below for more information:
Recommended Travel Vaccinations for Sao Tome and Principe

VACCINE
HOW DISEASE SPREADS
DETAILS

COVID-19
Airborne & Direct Contact
Recommended for all unvaccinated individuals who qualify for vaccination
Hepatitis A
Food & Water
Recommended for most travelers
Hepatitis B
Blood & Body Fluids
Accelerated schedule available
Typhoid
Food & Water
Shot lasts 2 years. Oral vaccine lasts 5 years, must be able to swallow pills. Oral doses must be kept in refrigerator.
Yellow Fever
Mosquito
Required if traveling from a region with yellow fever. Recommended for some specific itineraries.
Rabies
Saliva of Infected Animals
Moderate risk country. Vaccine recommended for long-term travelers and those who may come in contact with animals.
Routine Vaccinations for Sao Tome and Principe

VACCINE
HOW DISEASE SPREADS
DETAILS

Measles Mumps Rubella (MMR)
Various Vectors
Given to anyone unvaccinated and/or born after 1957. One time adult booster recommended.
TDAP (Tetanus, Diphtheria & Pertussis)
Wounds & Airborne
Only one adult booster of pertussis required.
Chickenpox
Direct Contact & Airborne
Given to those unvaccinated that did not have chickenpox.
Shingles
Direct Contact
Vaccine can still be given if you have had shingles.
Pneumonia
Airborne
Two vaccines given separately. All 65+ or immunocompromised should receive both.
Influenza
Airborne
Vaccine components change annually.
Meningitis
Airborne & Direct Contact
Given to anyone unvaccinated or at an increased risk, especially students.
Polio
Food & Water
Considered a routine vaccination for most travel itineraries. Single adult booster recommended.
Malaria and chikungunya can be found on the islands. Be sure to bring mosquito repellents an netting. Antimalarials are highly recommended for all travelers.
Visit our vaccinations page to learn more. Travel safely with Passport Health and schedule your appointment today by calling or book online now.
Do I Need a Visa or Passport for Sao Tome and Principe?
A visa is not required for stays under 15 days in Sao Tome and Principe. Travelers needs to have a passport with at least six months' validity.
Sao Tome and Principe Entry Requirements

Do I Need A…
For My Trip to Sao Tome and Principe?

Passport
Tourist Visa
Business Visa
Vaccinations
Sources: Embassy of Sao Tome and Principe and U.S. State Department
There is no restrictions on how much money you can bring into the country.
What is the Climate Like in Sao Tome and Principe?
São Tomé and Príncipe is a tropical country with warm and humid weather all year round. The country has two rainy seasons: from October to December and from February to May, with the heaviest rainfall in March and April. The popular tourist destinations in São Tomé and Príncipe are São Tomé Island and Príncipe Island, as well as Praia Banana Beach and Obo National Park.
São Tomé Island's weather is warm and humid with temperatures ranging from 75 to 85 degrees. Príncipe Island's average temperature is slightly cooler, ranging from 70 to 85. Visitors to São Tomé and Príncipe should expect a tropical climate with the potential for heavy rainfall, especially during the rainy seasons.
Praia Banana Beach is a popular destination with an average temperature of 80 degrees. While Obo National Park has a similar climate, it receives significant rainfall throughout the year.
It is recommended for visitors to pack lightweight clothing, rain gear, and insect repellent when traveling to Sao Tome.
How Safe is Sao Tome and Principe?
When visiting Sao Tome and Principe it's important to take certain precautions to stay safe. To start, be aware of your surroundings, especially in public places. Avoid walking alone at night and protect yourself from mosquito bites. It's also best to drink bottled or boiled water to stay healthy.
Before booking accommodations, research to ensure that they have proper security measures. Be careful when using public transportation and keep an eye on your belongings. Finally, respect local customs and traditions.
By following these tips, you can have a great time exploring Sao Tome and Principe while staying safe and secure.
Obo National Park
Avoid an Embarrassing Stop
Obo National Park is a place in Sao Tome and Principe where tourists can visit to see a lot of different kinds of animals and plants.
People can go hiking on the trails in the park and see the rainforest, savanna and mangrove habitats. There are also many birds in the park that are only found in Sao Tome and Principe, so people who like watching birds can have fun here.
Some tours in the park also include visiting an old village that used to make sugar and rum. People who are interested in learning about the park's ecology and history can join these tours.
Obo National Park is a great place to visit for people who love nature and want to see unique plants and animals.
What Should I Take to Sao Tome and Principe?
When traveling to São Tomé and Príncipe it's important to pack the right items. Here are some essential things to bring:
Light, breathable clothes made of cotton or linen to deal with the hot, humid climate.
Insect repellent to protect against mosquitoes that can carry diseases.
Sunscreen to prevent sunburn in the hot weather.
Water-resistant shoes for hiking and walking on rugged, muddy terrain.
A camera to capture the natural beauty and colonial-era architecture.
A basic first aid kit with bandages, antiseptic, pain relievers, and prescription medications.
Cash and credit cards as backup since ATMs can be unreliable.
An electrical adapter to use electronic devices.
A reusable water bottle to avoid buying bottled water.
A travel guide to help navigate the islands and find the best places to visit.
By packing these items, travelers can enjoy their trip to São Tomé and Príncipe and be prepared for the tropical climate and rugged terrain.
U.S. Embassy in Sao Tome and Principe
There is no U.S. diplomatic presence on the islands. Contact the embassy in Angola for any consular needs you may have:
The U.S. Embassy in Angola offers many services to American travelers who are visiting or living in that country. Some of the services include help in emergencies, such as accidents or illnesses, and assistance with passport and citizenship services.
U.S. Embassy Luanda
Rua Presidente Houari Boumedienne #32
Miramar, Luanda
Angola
Telephone: + (244) 222-64-1000
Emergency After-Hours Telephone: + (244) 222-64-1112
Visit the Embassy to Angola website before departure to confirm correct contact details for the office.
Ready to start your next journey? Call us at or book online now!
Customer Reviews